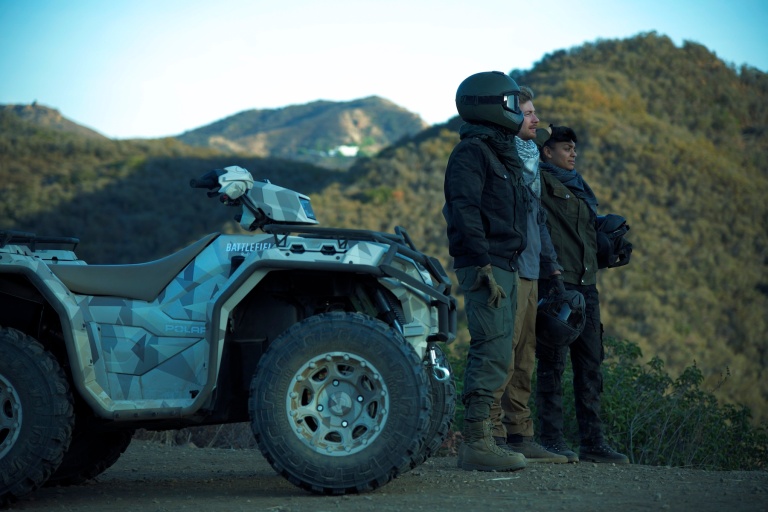 Why It Rules That Polaris Is Now The Official Off-Road Vehicle Of Battlefield
EA's Battlefield franchise is notorious for large maps, which means tons of running around. But the maps in the most recent release of the game are truly ginormous – massive virtual arenas designed for battle royales with 128 players. All that playable digital terrain means you'll have to do more than just hoof-it after a respawn.
Yes, that's a real Polaris Sportsman ATV in Battlefield 2021
A digital Polaris Sportsman ATV, of course. But a true-to-life Polaris Sportsman ATV.
Earlier this year, Polaris announced a partnership with EA DICE, becoming the official Off-Road Vehicle partner of Battlefield 2042.
This means that the ATV you ride in the new Battlefield isn't a generic four-wheeler made from a rendering that sat on a DICE developers' hard drive since Battlefield V (… the last Battlefield game to feature a four-wheeler, aka the "quad bike.").
Battlefield 2042 features an authentic rendering of a Polaris Sportsman ATV – designed in collaboration between the companies to stay true to the engineering of one of the world's most iconic off-roading vehicles.
Accommodating up to two players in the game, the machine is intentionally built to overcome terrain and obstacles while navigating around the game's war-ravaged maps.
Best of all? No clumsy doors to open, making you a potential target. Just get on, fire it up, and ride.
The Polaris partnership with EA DICE is the first-of-its-kind for the Minnesota-based Powersports company.
"Our partnership with Battlefield 2042 brings that real-life passion to a virtual world to help enhance the player's experience and ability," says Holly Spaeth, director, corporate branding and partnerships, Polaris. "As gaming grows and diversifies, this partnership allows us to reach new and existing audiences with an authentic brand experience."
To promote the partnership, Polaris released a gameplay video about "forging your own path" across the Battlefield 2042 maps, as well as out here in the real world.
It's a true metaverse where the vehicle used in the game has just as much function in the true outdoors.
Think about it: Very few gamers will ever get behind the controls of something like a Hovercraft or M1A5 tank, two marquee terrestrial vehicles baked into Battlefield 2042 itself. Since they're designed explicitly for military use, the gameplay experience with these vehicles is simply part of the fun and escapism of gaming itself.
But something like a Polaris Sportsman ATV?
You don't even have to own one to experience the fun of an off-road adventure.
With over 160 outfitters in the United States, Polaris Adventures offers turnkey off-roading experiences that cater to all skill levels. This means you can kick the tires on the trail in a variety of Polaris off-road vehicles, whether you're a first-time rider or an experienced Powersports enthusiast.
Also, as part of the partnership, Polaris also brought the ATV in the game to life.
One lucky grand prize winner will win a Battlefield™ 2042 -inspired Sportsman XP 1000, as featured in the game trailer above. The Battlefield 2042-inspired quad is hand-painted in an icy blue camo colorway to mirror the in-game vehicle, valued at nearly $30,000.