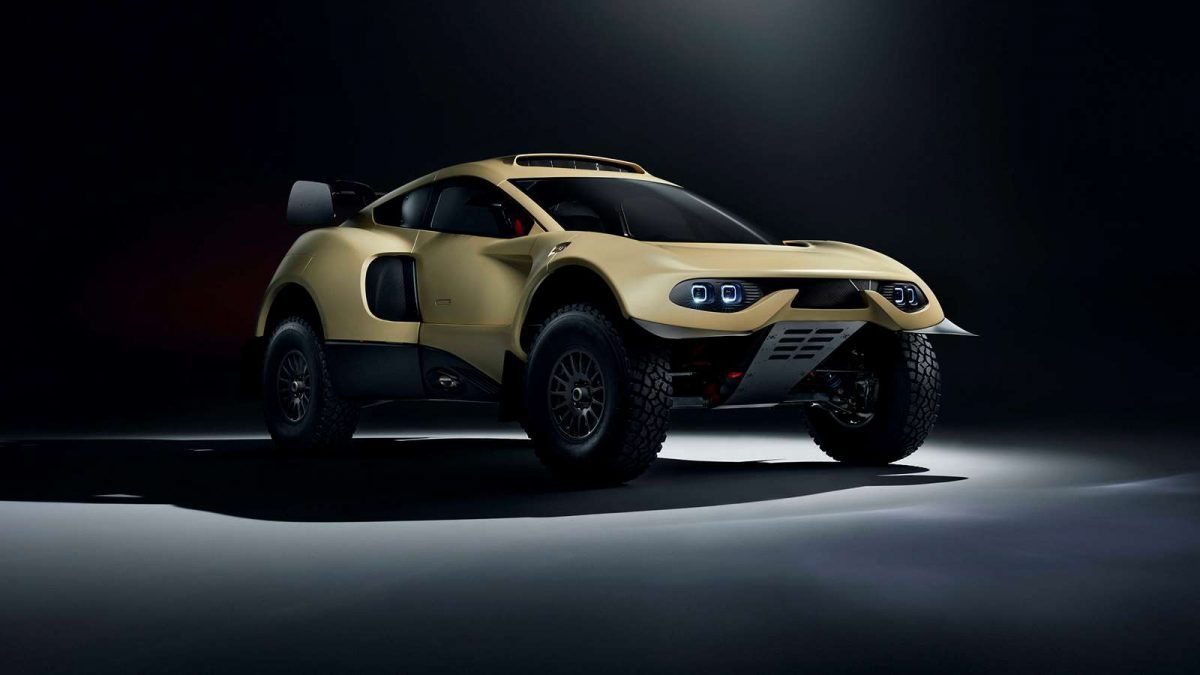 The Hunter is a road‑legal Dakar car
Is this the ultimate off-roader? It should be, because it's based on a pukka Dakar rally-raid machine – but it has twice the power. It also should be because while it is aimed at rich driving enthusiasts in the Middle East, it hails from Banbury and people who know a bit about driving fast off-road: Prodrive. It's the new Prodrive Hunter and can be yours for £1.25m plus taxes.
Wow, big price, but just look at it. Has a car ever had so many bulges in all the right places and looked so, well, incredibly capable? It looks better than even the car it is based on, and that was designed by Ian Callum, late of Jaguar. Yes, this is a road version of the Bahrain Raid Xtreme off-road racer as driven in the Dakar by nine-time World Champion, Sébastien Loeb.
"Road" version is not quite right in this context because while it may be street-legal it has been designed to perform best on… anything you like really, but particularly sand dunes, deserts and mountain ranges of its intended primary market. Prodrive says it is an "everyday" off-road hypercar – just one that can tackle such terrain at "unimaginable" speed.
Making Loeb's car everyday usable was again entrusted to Callum who, no surprise, has created a jaw dropper. Underneath is the Dakar car's steel spaceframe chassis, engine, drivetrain and suspension while Callum's revised bodywork in carbon-composites is draped over the top, way up high above the 35-inch wheels. It's a shape characterised by massive air inlets, huge ground clearance, non-existent overhangs and a giant wing aft of the sloping coupe body.
Callum has created a more-user friendly interior though you could hardly say it has gone soft. But at least now there are more car-like controls and a digital display for all the important information.
To make it easier to drive the sequential gearbox has been swapped for a six-speed paddle shift and the power delivery smoothed out. And increased – no racing regs to follow, so why not? The 3.5-litre twin-turbo V6 now shoves out over 600PS (447kW) with 700Nm (518lb ft) of torque. Prodrive says that were it not for the off-road tyres it would scoot to 62mph in under four seconds and hit 186mph. With 50 per cent more grunt, it's faster than the rally-raid machine as well as more refined, to ride in thanks to massively increased suspension travel.
Prodrive has been developing winning off-road competition machines for 40 years. Chairman Dave Richards tells us: "We took the deliberate decision to keep the Hunter Hypercar as close to the original as possible. It's about giving owners the opportunity to experience what it is like to drive Loeb's Dakar car across the desert, but with all the comforts of a road car and the ability to drive it from your home, through a city, to any destination of your choice."
Richards said that with its rigid frame and FIA-spec safety cage, increased suspension travel, front, centre and rear diffs for the all-wheel-drive and six-pot race calipers, the Hunter would be able to explore vast swatches of uncharted terrain with "performance way beyond that offered by any off-road vehicle before." A 480-litre fuel tank should ensure you get home again.
Hunter number one is currently touring the Middle East showing potential buyers what it can do. The first deliveries are expected later this year. With a million quid available and a desert for a backyard, you'd surely be silly not to have one…