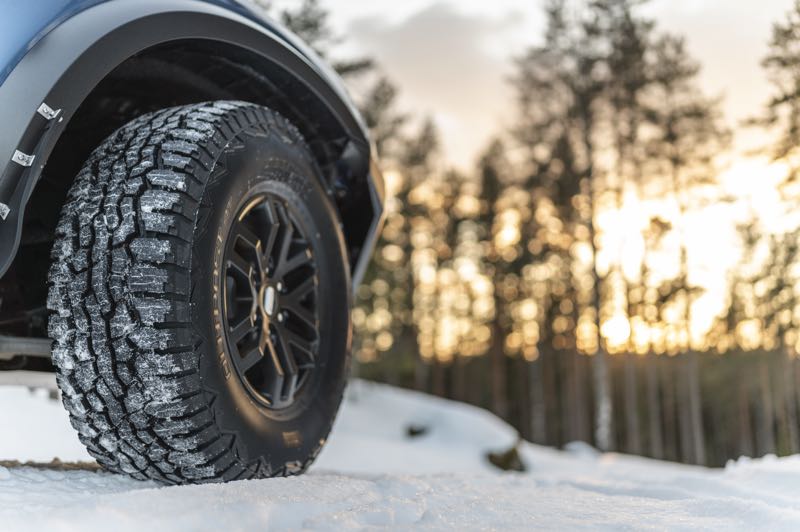 Nokian launches new line of all-weather, all-terrain tires for pickups and SUVs
Nokian Tyres has two new all-weather and all-terrain tires designed for SUV and light truck drivers. The company has announced that dealer shipments of the all-new Outpost AT and Outpost APT tires are underway. These tires are available now at area Nokian dealers.
Nokian held a virtual launch program on Jan. 12, highlighting that these new all-terrain tires are designed to help drivers of light trucks, SUVs and crossovers extend their boundaries by removing limits threatened by rough terrain and road hazards. The two models, AT and APT, are designed for different applications.
"The Outpost AT and APT are groundbreaking products that will deliver the next generation of rugged driving, both on and off the road," said Nokian Tyres Director of Products Steve
Bourassa. "We have designed and tested them in extreme conditions across North America and the world, and we are confident they will help drivers extend their terrain, toughness and travel."
The Outpost AT is an all-terrain tire with an aggressive tread pattern and Aramid-reinforced tread and sidewalls. It is designed and optimized for large SUVs and light trucks, including full-size half-ton and 3/4-ton pickups. It is available in North America with 64 fitments covering a size range of 15 to 22 inches, with LT-metric and P-metric versions. The Outpost AT supports high load capacity and makes the tire an ideal option for heavy-duty work and recreation, on or off the road.
The Outpost APT is an all-purpose-terrain tire designed for SUVs, crossovers, and smaller light trucks. This tire model will be available only in North America, in 34 fitments for wheels between 16 and 20 inches, and it is built for drivers who don't want to choose between off-road adventure and a comfortable commute. An adaptable year-round tread design is equipped to handle any conditions and every surface, including snow and slush. Large grooves inside the tread pattern help prevent hydroplaning, while the tire's rugged construction provides durability for rough roads.
Nokian Tyres is offering a 60,000-mile treadwear warranty on the Outpost AT and 65,000 miles of warranty on the Outpost APT. Additionally, the company offers the Outpost line with a one-year Pothole Protection program. If a tire suffers sidewall damage beyond repair due to a road hazard, Nokian will replace it at no cost. Both tires use Aramid (also known as kevlar) fibers in the sidewall and under the tread to enhance durability.
The Outpost AT and APT lines both carry the three-peak mountain snowflake that certifies they are suitable for driving in winter conditions. Both Oregon and Washington accept the three-peak mountain snowflake tires as traction devices, when required by conditions. Three-dimensional siping helps these tires contend with snow, slush and standing water, though they can be used year-round for driving.
Between March 1 and April 30, 2022, buyers of the Outpost AT and APT are encouraged to share their adventures on social media using #OutpostPledge and tagging Nokian Tyres on Facebook, Instagram and Twitter, for a chance to win prizes including company gear and even a journey to extend their boundaries.