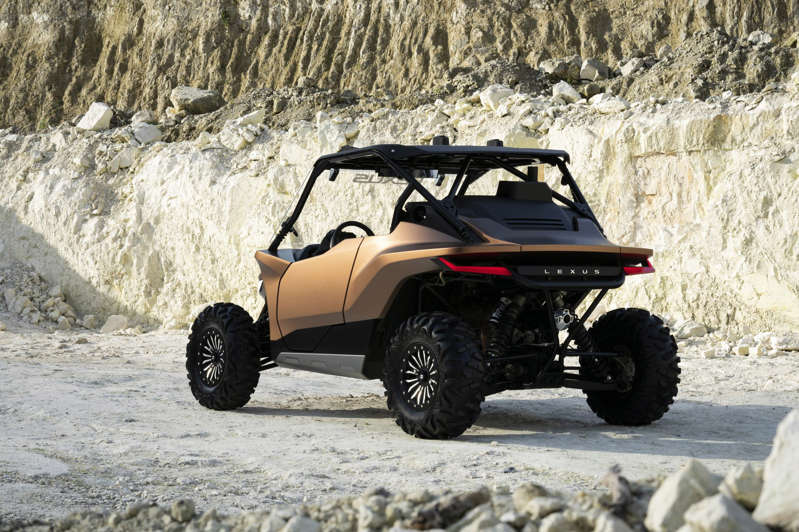 Lexus unveils hydrogen-powered concept vehicle for off-road driving
Japanese carmaker Lexus has developed a concept for a recreational off-highway vehicle with a combustion engine fueled by hydrogen instead of petrol.
The buggy has many of the hallmarks of a regular recreational off-highway vehicle (ROV), including exposed suspension and chunky tyres, but features Lexus' first hydrogen engine.
According to the brand, the ROV Concept generates "near-zero emissions" through its use of hydrogen as an alternative fuel.
This is stored in a high-pressure tank at the rear of the vehicle, which is shielded by a sleek black protective cage and a lightweight dark-bronze body.
Unlike Lexus's LF-FC concept car from 2015, which is a fuel cell electric vehicle (FCEV) powered by hydrogen, the ROV Concept sees hydrogen injected straight into the combustion chamber of a one-litre engine, which works exactly like that of a traditional fossil-fuel vehicle.
In a bid to appeal to automotive purists, Lexus says this preserves the engine tone and immediate responsiveness that can be lost with a battery-powered vehicle.
"Importantly, the new hydrogen engine produces close to zero emissions, with only a negligible amount of engine oil burned during driving," Lexus said.
The brand has not announced when a similar hydrogen-powered motor might be integrated into its actual fleet.
Currently, two hydrogen fuel-cell vehicles from major carmakers are already on the market – the Hyundai Nexo and Toyota Mirai.
A number of other brands have similar cars in the pipeline, from Land Rover's Defender to the BMW iX5 Hydrogen.
However, most hydrogen produced today is derived from natural gas, a fossil fuel that is energy-intensive to refine and in the process emits "significant" amounts of CO2.
In the future, this carbon could be captured and stored underground, to create a product the natural gas industry is marketing as "blue hydrogen".
But a recent study found that while this reduces carbon emissions, the resulting hydrogen still has a 20 per cent greater greenhouse gas footprint than simply burning natural gas or coal for heat.