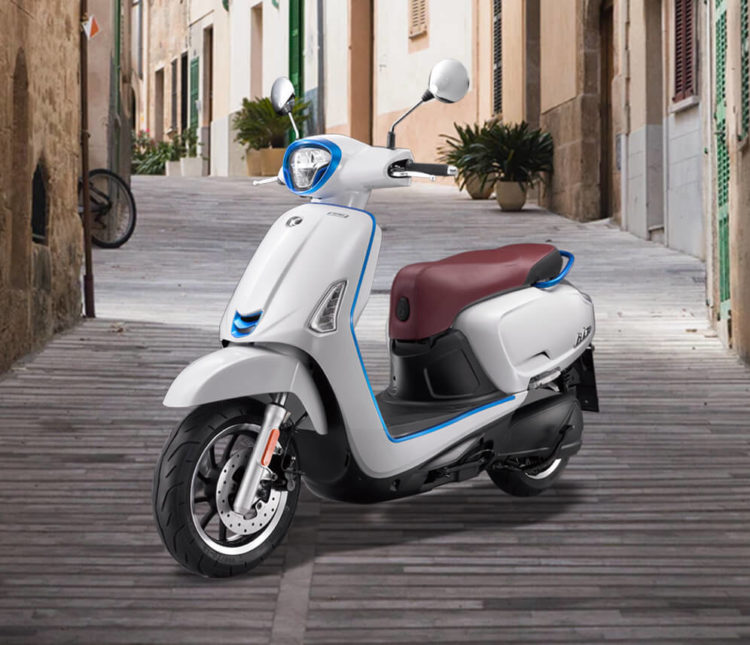 Kymco Like 125 EV
Waiting around for Honda/Yamaha/Suzuki/Kawasaki to release a practical electric motorcycle? We expect an all-electric sportbike from Japan this year, but that might not be the sensible commuter you want. Maybe the new Kymco Like 125 EV will fill that void instead, if it's available in your market.
Wait, Kymco's building an electric scooter? In case you hadn't noticed, everyone's trying to build a battery bike these days. Development of internal combustion engines has basically trailed off amongst the Euro and Japanese manufacturers, and now, Harley-Davidson, the Big Four and BMW/KTM/Ducati et. al. are working on electric motorcycles and scooters.
However, it's not just the big-name manufacturers of the industry who are headed this direction. Kymco and other Asian motorcycle/scooter manufacturers are also working hard on electrification, and although these brands aren't as well-known in western markets, they are still massive companies, with sales numbers that would tower over the puny North American market.
So, what's the Kymco 125 Like EV all about? It's all about a brushless DC motor with 3,200-watt output (that converts to just over 4 horsepower). Hardly impressive, but it's enough to get around urban areas, especially when you consider there's more than 90 pound-feet of torque at the rear wheel. It won't take long to get up to top speed.
The new EV's battery pack is more interesting than its motor. In stock form, the Kymco scoot comes with two quick-charge 50V/13Ah li-ion batteries, which can be recharged in an hour or less. It seems those batteries are good for roughly 80 kilometers of range inside city limits, which isn't much. However, the scooter's storage space is made to hold an additional three batteries, which boosts range to 200 kilometers.
That sort of range would make the Kymco Like 125 EV a practical choice for delivery riders and other people who need all-day transportation without long breaks for recharging. It also makes the scooter a bit more practical for out-of-town rides on quiet, slow roads. If pricing is reasonable (and it should be), then the combination of useful torque and real-world-usable range could make this little electric scooter a breakthrough success in markets where it's introduced.
Alas, that does not appear to include the North American market, at least for now. Elektrek reports the Like 125 EV is headed to Europe for the low, low price of €1,200. However, we have seen no indication it's coming to the US, and Canada's Kymco importer seems to be focusing on ATVs right now.
This scooter comes with general Euro styling, a single-disc front brake and drum rear brake, and rolls on 12-inch aluminum wheels.