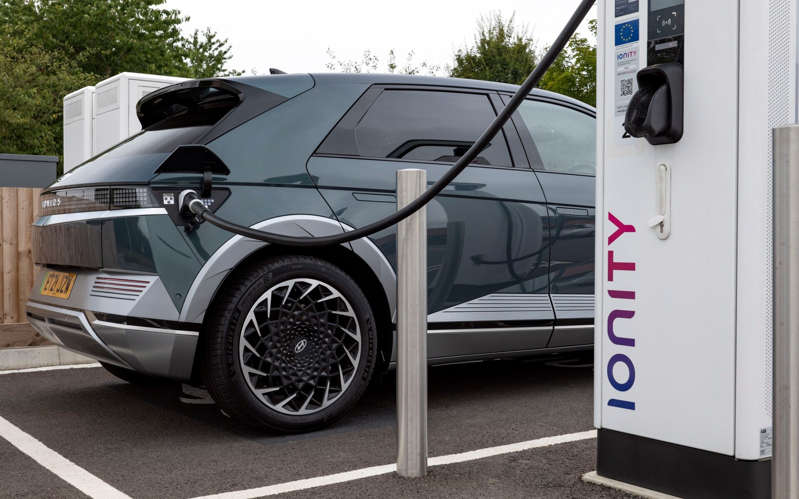 Hyundai Ioniq 5 review
It can't be denied that the Hyundai Ioniq 5 looks like little else on the road. I can't be alone in thinking that this electric car looks an awful lot like one of those futuristic electric chariots with smooth surfacing, sharp creases and ethereal strips of lights from a late-1980s post-apocalyptic sci-fi action film.
Having already driven an Ioniq 5 in top-spec Ultimate trim (albeit in left-hand drive) we've now got our hands on a UK-spec example. What's more, this one is a mid-range Premium, and its smaller wheels should in theory mitigate the rather firm ride for which we criticised this car last time around.
Pros
Smart looks, inside and out
Smooth and comfortable to drive
Spacious, versatile interior
Cons
Not all that involving to drive
No rear wiper
Touch-sensitive controls can niggle
Overview
The Ioniq 5 is bigger than it looks in pictures. The proportions might have you thinking it's about the size of a Volkswagen Golf family hatchback, but in fact it's only 3cm shorter than an Audi Q5. Thus it competes with electric cars such as the Polestar 2, Volkswagen ID.4, Ford Mustang Mach-E and Kia EV6, the latter of which it shares a platform with.
Unlike the EV6, though, there are two battery sizes available. The range starts with the 58kWh version, good for 238 miles according to official tests, and only available in rear-wheel drive form with a 167bhp motor.
Upgrade to the 73kWh and you get a range of 298 miles and a power hike to 214bhp. You can also have this battery with all-wheel drive, as tested here. This takes the form of an additional motor on the front axle whose extra power takes the maximum combined output to 301bhp, but whose extra weight reduces the range to 285 miles.
Efficiency is pretty good; the 3.5 miles per kilowatt hour (mpkWh) the Ioniq 5 gets on the official combined test cycle is better than the 3.2mpkWh of the Polestar 2, or a Mustang Mach-E. And with a whopping 350kW on-board charger, the Ioniq 5 has the potential to charge from 10 per cent to 80 per cent in only 17 minutes – although only if the charging point you're using permits it and only if the ambient temperature is high enough.
The entry-level spec is the SE Connect, which comes only with the smaller battery; if you want the bigger one, you have to upgrade to the Premium we've got here, which also gets silver body mouldings, heated front seats, a heated steering wheel and an electric boot lid. Ultimate gives you the aforementioned larger-diameter wheels (though only if you go for the bigger battery), along with ambient lighting, a neat sliding centre console, a head-up display and a Bose sound system.
At almost £45,000, this version is priced right up against the Polestar 2. While it edges the Polestar on equipment, it isn't quite as swanky inside; there are a few areas (for example, the tops of the door panels) where the plastics are hard and unyielding.
Inside story
Having said that, the Ioniq 5 hardly feels cheap and cheerful; the rest of the materials are smart, the switchgear feels solid and sophisticated and the interior design is top-notch, with gorgeous sweeping surfaces, a lozenge of white glass through which peer the two screens, the central one getting a nifty padded ledge on which to rest and steady your hand as you use it. Certainly, it beats the built-down-to-a-price interior of the VW ID.4 into a cocked hat.
The glassy climate control panel looks good, too, but it's a touch-sensitive set-up, which means you have to peer down at the screen to make sure you're stabbing the right command. We should be thankful that it's there at all, however, meaning you don't have to rely on a menu in the infotainment system such as you do with some of the Ioniq 5's rivals.
Yet there aren't any controls for the heated seats; to switch them on, you do have to rely on an on-screen menu, accessed by stabbing the bit of the panel which says, cryptically, 'Warmer' (as in, presumably, 'seat warmers', per US parlance). Either that, or take your chances with voice control.
Happily, the screen itself is generally easy to use. A physical 'home' button to take you back to the main menu would be helpful, as the on-screen icon for this is up in the top left-hand corner and therefore a stretch for the driver. But the menus are pretty logically laid out, the screen itself is crisp and clear with a high resolution, and the software is snappy to respond.
The rest of the Ioniq 5's controls are well sorted, too; there are quite a few buttons on the steering wheel, for example, but they are at least buttons, unlike some rivals' touch-sensitive (and therefore easy to press by mistake) pads.
For the most part, it seems, Hyundai has allowed common sense to prevail over minimalistic showiness, and the result is that the Ioniq 5's interior manages to be at once stylish and sensible.
Spacious, versatile and practical
It's roomy, too; spectacularly so, in fact. In the front, the centre console drops away between the seats rather than sweeping up to meet the dash, leaving a huge gap that enhances the feeling of space. There are some big, useful cubbies in the console itself, too. Meanwhile, in the back seats, there's more leg room than you'll know what to do with, and the seats themselves fold, recline and even slide in a 60/40 split, making this one of the most versatile EVs on the market.
The boot is shallow, but wide and long, and its space can be enhanced by sliding those rear seats forward; there's a false floor, too, beneath which you'll find the Ioniq 5's charging cables, but if you remove these you get a useful bit of extra luggage room.
The overall volume isn't quite as good as the best in this class, but much better than that you'll find in the worst, and you get a diminutive compartment under the bonnet too. It might only be big enough for a packet of biscuits, but you never know when you might fancy a custard cream.
There's a proper 'start/stop' button to turn on the Ioniq 5; you don't just hop in, slot it into drive and go, like a Tesla (or, for that matter, an ID.4). This has advantages and disadvantages, but it's certainly nice to be sure it's running before you set off, and turned off properly before you leave the car at the end of a drive.
You get a proper lever for the electronic handbrake, too, so you can activate it yourself rather than having to flick the car into Park at traffic lights, and deactivate it before you pull away if you so choose. Yet more of that common sense approach, in other words.
Vision impaired
That common sense, however, doesn't quite run to a rear wiper. Hyundai says the airflow through the spoiler will keep the screen clean, but 30 miles of wintry British roads is enough to prove that that claim was so much hogwash. Which, incidentally, the window will look like it's covered in after that time, thus rendering the rear-view mirror all but useless.
You select Drive by twiddling an odd bullet-shaped gear selector that sticks out from the steering column, though this is far enough away from the indicator and wiper stalks so as not to be mistaken for one of them.
The Ioniq 5 is smooth and easy to drive, though with relatively heavy steering. This will make it less easy to twirl the wheel around town, but it also lends the Ioniq 5 a sturdy, substantial feel, as does the way it glosses over most of the bumps in the road unperturbed.
True, the suspension in this Premium model is still taut, but the smaller diameter wheels and higher-profile tyres take much of the sting out of the bumps; indeed, this is a far more comfortable car than the Ultimate version we tried last year, and hard to unsettle even over deep potholes. Only on occasional stretches of poorly surfaced rural Tarmac do you get a vibration that becomes more intrusive, as though the car were driving over corrugated steel sheeting.
Performance
This top-spec version is plenty quick enough for most people's needs, even if it can't quite match the blistering pace of the Polestar. What's more, as with other Hyundai and Kia EVs, you can adjust the amount of regenerative braking you get when you lift off the accelerator, using the paddles behind the steering wheel. The regenerative and friction brakes are well integrated, which means the brake pedal feels natural to use.
Push the Ioniq 5 harder on an undulating back road and you get a sense of its softness. Vertical body control is rather slack, with the result that the car bounds over crests and wallows into compressions, which can be somewhat disconcerting if you happen to encounter either of these features mid-corner.
It does feel much more comfortable on flatter, smoother roads, though, with positive steering and lots of front-end grip. Interestingly, in Sport mode, you get a sense of the Ioniq 5's natural rear-driven bias on greasy roads; prod the accelerator too aggressively out of a tight bend and the tail will loosen momentarily, slipping out of line before power is sent to the front wheels and the traction control steps in to gather everything up.
Most of the time, though, there's plenty of lateral grip, so you can make flowing, reasonably fast progress down a B-road should you wish to. It isn't all that involving though, and a Polestar 2 or a Mustang Mach-E will feel better tied-down. So if it's a sporty drive you're after, you might be better off looking elsewhere.