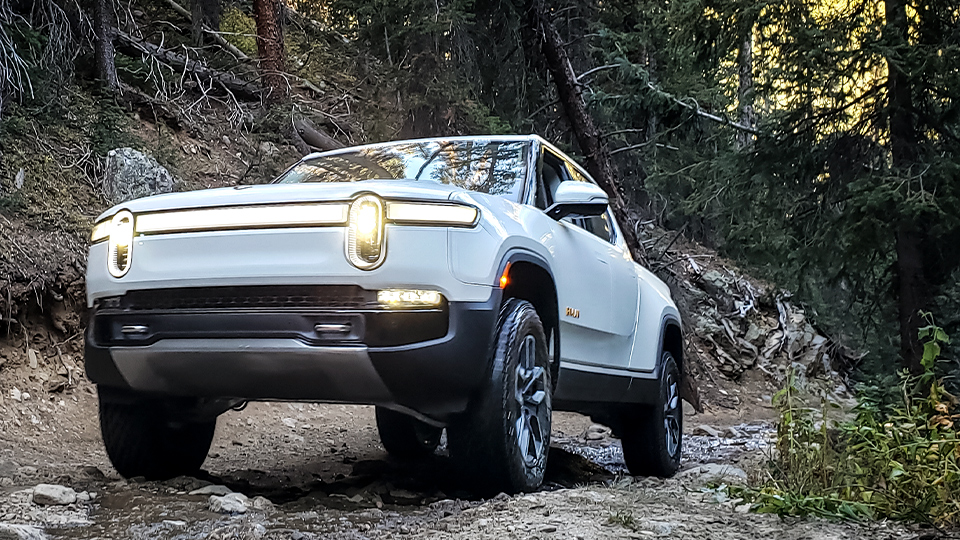 Forbes Wheels Electric Vehicle Of The Year: 2022 Rivian R1T
If sales hold steady this month, pickup trucks will have made up 26% of the new vehicle market in 2021. That just a hair more than one in every four new vehicles, and the three best-selling individual models (by far) are all pickups. But until the arrival this fall of the 2022 Rivian R1T, not one of these vehicles was powered exclusively by electricity. The R1T earns our electric vehicle of the year honors by bringing EV reality to the segment and by being a stylish, capable and innovative vehicle in its own right.
2021 has been a big year for the EV revolution, with Lucid breaking the 500-mile range barrier and the announcement of a vast array of new all-electric models to come, including trucks like the Ford F-150 Lightning and Chevrolet Silverado E. Ford and General Motors (which had already launched the GMC Hummer EV pickup in 2020) are joining a host of upstarts including Atlis, Bollinger, Canoo and Tesla in the truck game, but the Rivian is the first to become reality. (Whether the others make it to production is an open question).
Unlike the Hummer or the F-150, the R1T is a midsize pickup and one that's designed to feel and look a bit more civilized than a conventional pickup. It's clear the design team has spent a great deal of time looking at how recreational pickup owners use their trucks.
Like the Honda Ridgeline, the R1T is a unibody machine with an integrated bed. It similarly eschews the scowling faces and aggressive looks of trucks like the Chevrolet Silverado or Toyota Tundra for a handsome, businesslike industrial design that's optimized for range-extending aerodynamics.
A large locking "gear tunnel" storage space sits crosswise behind the cab, in front of the rear wheels and below the bed, and can be filled with an optional pull-out camping kitchen. An expandable and collapsible crossbar system enables above-bed storage or overlanding tents, just like on a Toyota Tacoma.
Trucks are all about torque, and the Rivian puts down enough to rival heavy duty pickups. Its quartet of electric motors, mounted inboard of each wheel, produce a combined 908 pound-feet from 0 rpm, and there are also 835 horsepower on tap.
On the pavement, the R1T leaves conventional performance pickups including the Ram 1500 TRX and Ford SVT Raptor in a cloud of dust. It can hit 60 mph in the low 3-second range and turn in an 11.6-second quarter mile and do it all in serene silence. This despite weighing 7,000 pounds–as much as a Ford F-350 Super Duty. Off road, having one motor per wheels imbues the R1T with a level of precision control and accessible torque no conventional off-roader can match.
In towing terms, all that power and weight equates 11,000 pounds of capacity. That's far more than any other truck of this size, but how much range the R1T will lose at full load is an open question. The company claims a range loss of 50%, but towing is a very energy-intensive activity and we haven't tested this claim in the real world. Payload capacity is 1,760 pounds, a little above average for a truck of this size if not of this weight.
The EPA rates the R1T's range at 314 miles, and an optional larger battery with a projected 400 miles of range is due next year. The existing battery can charge at up to 185 kilowatts from zero to 30% of capacity, allowing it to add up to 140 miles of range in 20 minutes when it gets low.
There are a few foibles, and one in particular stands out. Like many EV automakers, Rivian routes too many functions through touchscreens, which are not a great user interface while driving a 7,000-pound vehicle at 75 mph on a crowded interstate.
Caveats about menus and towing aside, Rivian has produced a pickup that outshines many conventional offerings in speed and off-road ability by virtue of its electric drivetrain. The R1T is the very first EV to arrive as a pickup, which sets the stage for showdowns between competing powerplant types. When truck buyers they start comparing conventional pickups to electric ones, they'll probably find they like many EV attributes. We'll see more EV pickups very soon, but Rivian got there first.