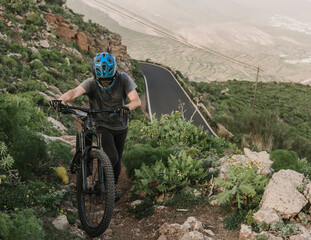 Coalition for Recreational Trails Honors 2021's Outstanding Trail Projects and Programs
Twelve trail projects and a state trail program have been chosen by the Coalition for Recreational Trails (CRT) as recipients of its 2021 Tom Petri Recreational Trails Program Annual Achievement Awards. The awards honoring former U.S. Representative Tom Petri (WI) recognize outstanding use of Recreational Trails Program (RTP) funds. These projects were honored November 11 at a live virtual ceremony with participation by award recipients and key trails champions, including members of Congress.
Colorado Parks and Wildlife nominated the Colorado Fourteeners Initiative, which won in the Maintenance and Rehabilitation category for their Statewide Regional Fourteeners Maintenance Project. Lloyd Athearn, Executive Director of the Colorado Fourteeners Initiative, accepted the award.
"Thank you to the Coalition for Recreational Trails and the Colorado State Trails Program for recognizing our work with this prestigious award," Athearn said. "Our work seasons are short, intense and occur at extreme altitudes with work beginning at 12,000 feet and often extends to the 14,000-foot summits. For this project, we engaged 1,800 volunteers, maintained 64 miles of existing trails, delineated 2.5 miles of new trails, and performed more than 11,000 square feet of vegetation restoration. Working with only natural materials found on the peaks, crews installed 654 timber steps, 278 rock steps, and built 5,000 square feet of retaining walls."
The Colorado Fourteeners Initiative (CFI) was established in 1994. CFI is the nation's leading high-altitude trail-building, terrain-restoration, and visitor-education organization. CFI has built 39 sustainably located, designed, and constructed summit routes on 35 peaks, with its work garnering honors and awards from Congress, the US Forest Service, the National Forest Foundation, and other organizations. Their work allows more than 400,000 hikers annually to climb these challenging peaks while protecting their rare and fragile alpine ecosystems.
People come from all over the world to climb Colorado's 14,000-foot peaks, and the state has seen a major increase in visitation. Many trails are badly degraded from environmental conditions as well as increased usage. The Fourteeners Initiative hires crews and youth corps and utilizes volunteers to maintain, reroute and repair the trails that take hikers to the high country. Conditions are sometimes dangerous and always difficult to conduct much needed trail maintenance. The crews work quickly and efficiently during the short high-altitude season, and their results are well established.
The trail maintenance work addressed high hiker use, extremely severe weather and erosive forces on the trails, and exceptionally severe damage to fragile alpine vegetation. Typically, CFI crews put in an estimated 1,500 volunteer days per season. Without proper maintenance, hikers are more likely to leave a primary trail to seek more stable footing, creating new social trails to the summits that further threaten native plants and fragment critical wildlife habitat.
The project was nominated by the Colorado State Trails Program as it was funded with Recreational Trails Program dollars through the annual Non-motorized Trail Grant Program. This grant program provides funding for trail maintenance, construction, and planning projects.
The Recreational Trails Program (RTP) is an assistance program of the U.S. Department of Transportation's Federal Highway Administration (FHWA). Federal transportation funds benefit recreation by making funds available to the States to develop and maintain recreational trails and trail-related facilities for both non-motorized and motorized recreational trail uses. The RTP funds come from the Federal Highway Trust Fund and represent a portion of the motor fuel excise tax collected from non-highway recreational fuel use: fuel used for off-highway recreation by snowmobiles, all-terrain vehicles, off-highway motorcycles, and off-highway light trucks.