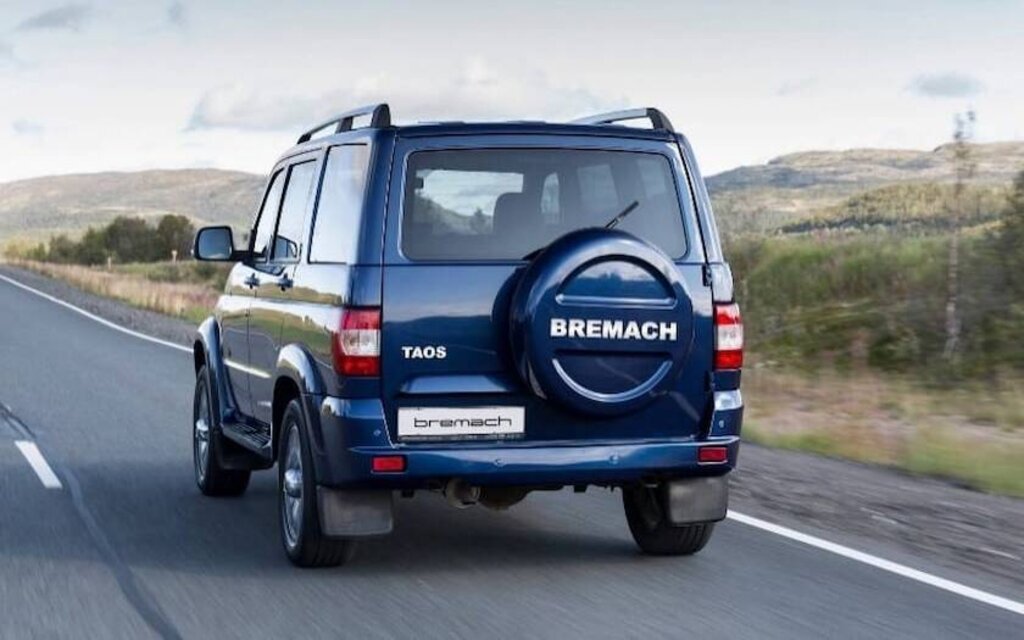 Bremach 4×4 is a Russian SUV Coming to America
Last month at the Los Angeles Auto Show, the new 2022 Bremach 4×4 made its debut as a rebadged UAZ Patriot from Russia. In fact, California-based Bremach claims it has been "uniquely engineered and homologated for the American market."
In the 24 hours following its first public appearance on American soil, customers from across the U.S. made a deposit representing $3.8 million in pre-orders for the affordable midsize SUV with a starting price of $26,405.
The design is pretty nondescript and uninspiring. And don't bother with the "Taos" badge on the rear hatch—it will be dropped since Volkswagen already sells the Taos in North America.
Standard features include LED daytime running lights, 18-inch alloy wheels, a seven-inch infotainment touchscreen, six-speaker stereo and heated seats. There's an optional off-road body kit with 17-inch Raceline wheels, Goodyear all-terrain tires and front recovery hooks.
The Bremach 4×4 uses a 2.7-litre four-cylinder gasoline engine mated to a six-speed automatic transmission and two-speed transfer case. The modest 150 horsepower are transferred to all four wheels. Arguably the best thing about it is the 10-year/120,000-mile (190,000 km) powertrain warranty.
Should this Russian-born SUV prove popular in the U.S. (we don't think it will), maybe other automakers will see this as a sign that drivers are looking for cheaper, simpler new vehicles, wherever they come from.
By the way, the Bremach 4×4 will be followed by a pickup and a range of commercial vehicles.