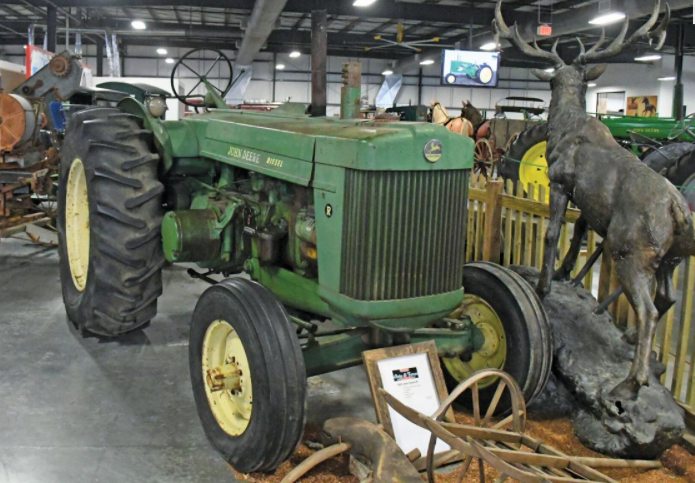 Branson Auto & Farm Museum
Whether you're a classic car buff or just appreciate their cool paint jobs, the Branson Auto & Farm Museum offers folks the chance to walk amongst some of the most famous and historical automobiles, tractors and more.
Inside of the museum, guests will be treated to 90,000 square-feet of space featuring more than 200 cars and more than 180 tractors and farm implements.
"We've got a two acre building. We've got an acre of farm equipment and implements and an acre of cars and trucks. We get new inventory in, it's been weekly for the last year," General Manager Jason Knox said. "This was all one man's collection and he passed away and it's been taken over by his family and corporate owns it now.
Open seven days a week, 364 days a year, Knox shared the museum provides a year-round attraction for visitors and locals alike.
"Our customers, if they're looking for something to do anytime of the year we're always here," Knox said. "We offer a local discount. This time of year we'll start doing some of our deep cleaning for the museum that we can't do during the busy season. We keep all the employees here going year-round. Other than an unexpected snow or ice storm, we'll be here."
Branson Auto & Farm Museum Employee Sean Bailey shared the museum offers such a selection of things to see, they really have something for everyone.
"If you're not into the cars and trucks, which are classics, muscle, vintage and then you get some of your newer mix in there as well. The tractors and farm equipment, there's just a large variety to see there, so that would be something you just don't see in southern Missouri or northern Arkansas for the locals. You know, it's something new for them to see. The visitors from out of state, they come in and they're experiencing it. They've driven by 10 or 15 times here on the strip and finally decide to stop by and see something."
Bailey added, word of mouth from past museum patrons is one the top ways they welcome in new guests.
"We're hearing people when they come in, 'A friend of ours was here last summer and told us we needed to check it out on our next Branson vacation, so we're here and it's a wonderful experience.' That's neat to here that, just because two acres of cars, trucks and tractors, you don't see that anywhere else."
Though they welcome many new folks into the museum, Knox shared at least 50% of their customers are repeat visitors.
"We try to swap up the inventory as much as we can each year, but a whole lot of repeat customers have been here since the day we opened. Each year they'll come back and see the museum," Knox said. "We like '70s model muscle cars, but that's not everybody's forte. Some of the guys down at the corporate office in Florida, they pick cars and buy stuff they like, so that way it's just not one sided."
The Branson Auto and Farm Museum originally opened their doors as the Branson Auto Museum in May 2009. In 2010, the museum was purchased by Maurice Wilder, a successful real estate and farm businessman, of Clearwater, Florida. The 2012 Branson Leap Day Tornado severely damaged the museum, which led to it being completely rebuilt into the 90,000 square foot building it is today.
"Shortly after he purchased the museum is when the tornado hit. I think it was about a year and a half later when this place opened back up again," Knox said. "There were several total (vehicle) losses. I know I had a couple friends who had vehicles here that were destroyed. I had some friends here that had cars that were damaged. I know after the tornado, I don't know how many storage units they had, but they stored all the stuff that was salvageable for well over a year, maybe two years while they were rebuilding the building. Then it was getting more inventory. I know Maurice had a bunch of personal cars he had in Florida that he had shipped up here."
Another unique aspect of the museum is nearly everything you see inside, is for sale. Knox explained why the attraction is set up that way.
"All the cars are for sale here, so if you see something you really like and you want to take it home with you that's doable as well," Knox said. "Places like Branson are repeat tourists, so if you don't get new inventory once you've already been here and seen it you've seen it, so if you swap up your inventory as much as possible you get people coming back to see what you've got."
Collectors will often come to tour the museum. Knox shared when they do, they always want to show off a piece from their collection.
"Every other customer goes, 'I've got one of these' and they'll bring the phone up and show you what they have in their collection," Knox said. "If you enjoy talking to people you can sit there and talk to people all day long about cars, tractors and whatever."
Bailey added many of the vehicles at the museum also trigger special memories for guests, especially when they haven't seen a certain piece in decades.
"You can hear the stories of when they were a kid or their first car or they dated their significant other in that particular vehicle the same color as we have out there," Bailey said. "It brings back a lot of memories for a lot of people. Then it also sparks an interest in some of the younger crowd that hasn't seen a particular vehicle."
Admission into the museum is $23 for adults; $21 for seniors 55 and older; $13 for students ages 6 to 18 or with a valid student ID; $19 for members of the military, first responders, educators; and children ages 5 and under are free. A local discount is available to residents of the general area.