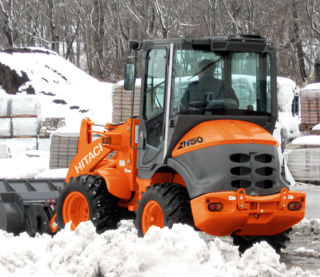 Big Power in Small Spaces
Compact wheel loaders often take a back seat to skid-steer loaders, even though a compact wheel loader can be more productive in specific applications.
"Compact wheel loaders are not as common on North American jobsites," says John Dotto, product application and training specialist, Wacker Neuson. "It's quite typical for a contractor to turn to what they know, and that is usually a skid steer. However, compact wheel loaders can be a great compliment or alternative to a skid-steer loader. The benefits include excellent visibility, improved tire wear and fuel economy, travel speed and overall operator comfort. There are also a few drawbacks to consider such as cab height, operating weight and transport capabilities. The versatility you get with a wheel loader is important to consider."
Operation is relatively simple.
"The learning curve for new operators gives the advantage to a wheel loader over a skid steer," says Dotto. "If you have a lot of turnover and find yourself training new operators frequently, you might benefit from putting small wheel loaders into the fleet."
With some compact wheel loaders, simplicity of operation is a design goal, since these are often rental machines.
"Recognizing that the operator market is tight and often new operators are given the smaller, less complicated loaders to start on, simple controls give new operators a level of comfort and allow seasoned operators to focus on the task at hand quickly and efficiently," says Sam Shelton, marketing manager, Hitachi Construction Wheel Loaders America.
"Hitachi wheel loaders are very intuitive and therefore offer a very simple operator environment," she adds. "Operators can get right in and get comfortable operating the machine and not worry about confusing or complicated controls."
The definition of what constitutes a compact wheel loader varies by manufacturer, but typically machines with less than 125 horsepower fall into this category. What really sets these loaders apart from their main rivals, the skid-steer and compact track loader, are a higher rated operating load capacity, significantly higher travel speed, superior lift and reach, longer wheelbase and improved fuel efficiency.
"Compact articulated wheel loaders work well on hard surfaces due to lower tire wear, because of the nature of the steering mechanics," says Dotto. "They also burn less fuel than a comparable skid steer. Between tires and fuel, your net result is a lower daily operating cost.
"Visibility on the jobsite is a safety advantage," he continues. "From the operator's station of a wheel loader, your view is much less obstructed than any skid steer can claim."
Speed is also an important benefit when working on sites with a lot of ground footage. For instance, Hitachi's ZW80 is capable of speeds up to 21.1 mph. "When you are going a longer distance down the road and are in rabbit mode, it's impressive just how fast this Hitachi loader goes," says Dustin Drost, Drost Landscape. "Even in turtle mode it is quick. Everyone who operates it is so taken by that."
When comparing compact wheel loaders, there are many configurations and options that really differentiate performance. Investigate all of your options prior to making a selection.
Articulated vs. All-wheel Steer
The majority of compact wheel loaders utilize an articulation joint in the middle of the machine. Articulation allows the rear tires to follow the same track path as the front tires for greater maneuverability and control of the loader. This enables articulated loaders to excel in indoor applications, narrow spaces and on sensitive terrain.
"All-wheel-steer loaders have the same loading and cab concept as an articulated machine, but the steering concept is different," Dotto notes. "An all-wheel-steer machine has a rigid frame where the front and rear tires steer in one of three possible modes: front wheel, all wheel and crab. In addition to the versatility provided by the various steering modes, an all-wheel-steer machine has one major advantage over an articulated machine, and that is stability. Because the center of gravity is not affected by the steering of the machine, there is no need to calculate full-turn and straight tipping loads.
"The off-road stability of the rigid frame make an all-wheel-steer machine a versatile and profitable addition to a fleet," he adds.
The choice between articulated and all-wheel-steer loaders really depends on your typical application. "When it comes to mobility, the articulated loader offers a key advantage over the four-wheel-steer units — a compact turning radius with the bucket inside the turning radius," says Philipp Schwartz, wheel loader product manager, Mecalac. "Though the four-wheel-steer unit still offers a tight turning radius, the fact that the attachment is outside the turning radius increases the need for caution on the jobsite, especially on narrow urban projects.
"Our four-wheel-steer machines feature a rigid chassis combined with steered axles, making them much more stable than traditional articulated loaders," Schwartz says. "While the articulated loaders often provide a more comfortable and intuitive experience for the operator, with the attachment always aligning with the driver direction, stability is often sacrificed, especially on uneven terrain."
There is another configuration option, as well. "Stability is certainly an advantage of the four-wheel-steer units. However, for customers looking for the best of both worlds, Mecalac designed the AS swing loader series," says Schwartz. "The swing system allows the operator to swing the boom 90˚ to either side, but the machine is always safe and stable. This significantly reduces the amount of travel and repositioning on the jobsite."
Consider all the trade-offs. "The safety and stability of a four-wheeled machine often comes at the cost of its maneuverability," Schwartz notes. "While an articulated loader is more maneuverable, it sacrifices stability and, in turn, safety for operators and others on the site. When we set about designing the Mecalac swing loader system, we wanted an equipment solution that addressed all these issues and provided an ideal option for tight spaces. Space management was a top priority because we knew that a design that fostered this would also boost efficiency.
"The swing loader provides the ideal cross between the four-wheel-steer unit and the articulated loader, providing stability with maximum mobility and the ability to complete more tasks in a very limited space," he continues. "The swing loader is especially well-suited for compact urban jobsites or road construction projects where closing down additional lanes of traffic is just not feasible."
The AS swing loader series incorporates a boom that pivots to the side and is completely independent of the steering system, enabling it to handle long materials like pipes for canalization, wood for forestry or just a simple stone pallet. "For road construction, the AS swing loader offers the only solution to work in a single lane while laying cable or performing other tasks," Schwartz asserts.
"Mecalac offers three steering modes on our AS swing loader series — two-wheel, four wheel and crab — giving operators flexibility to meet the terrain and space needs of any jobsite," Schwartz adds.
Other wheel loader models combine articulation and all-wheel steering for maximum maneuverability. For instance, John Deere provides Articulation Plus on its 224L, 324L and 344L compact loaders. This feature combines 30˚ of articulation plus an additional 10˚ of rear-wheel steer. By reducing the articulation angle, the design allows tighter turns that are more stable.
In addition to steering, there are fixed frame models over those with axle or frame articulation or oscillation. "Axle oscillation vs. a fixed frame allows for easy navigation over rough or uneven terrain, keeping the operator safe and comfortable while providing better load retention," Shelton explains. "The Hitachi engineers have included an oscillating rear axle to optimize travel and ride performance for the operator."
There are many different configurations available. "Venieri offers a rear articulating axle with fixed central articulation for better stability and maneuverability," says Eva Erixon, co-founder and president, Ranko Equipment. This emulates the design of larger machines.
There are traction options, as well. "Locking differentials also prevent the machine from slipping and sliding in wet or slick conditions for operator comfort and safety," says Shelton.
Telescoping Booms Add A New Dimension
Several manufacturers now offer compact wheel loaders with telescopic booms. "The advantage of the telescopic loader is obviously a longer reach," says Schwartz.
Erixon adds that the telescopic boom provides multi-function capability, resulting in a "Swiss Army Knife" solution.
"They address the challenge of how to get maximum lift and dump height in the smallest footprint along with the most maneuverability," says Dotto. "Drawbacks are few, but a telescopic loader does have a higher price point due to the increased mechanics needed to run the telescopic boom. You also have more moving parts, so naturally that comes at a higher price to maintain."
Any additional cost can be offset by increased productivity. "When the application calls for higher and longer reach, you have improved cycle times and increased overall productivity," Dotto comments. "That additional investment has a very fast return on investment."
You do need a more skilled operator, however. "Load capacity and incorrect operation of a telescopic boom can put operators at a disadvantage," says Schwartz. "Carelessly operating the machine with an extracted boom creates torsion in the boom, which can cause cracks. Proper operation is very important for overall safety and equipment longevity."
The operator will need a little more training prior to use. "From an operational standpoint, you'll want to keep a few things in mind when operating a telescopic loader," says Dotto. First and foremost: read the operator's manual and understand the capacity of the machine. "When you fully extend a telescopic wheel loader, you've changed the tipping point and center of gravity. Extreme care should be taken."
On Wacker Neuson telescopic loaders, a standard load management monitor in the cab helps the operator understand how the stability of the machine is affected by the position of the boom. "A series of green lights lets an operator know when they are approximately at 25%, 50% and 75% of maximum operating load," Dotto explains. "When the system senses the load is exceeding this threshold, the system warns the operator to adjust operation with an amber warning light and audible tone. When the operator is working outside of the parameters of operation, a red light illuminates and shuts the telescopic function down until the operator returns the load to an acceptable operating condition. This feature is very helpful in understanding the capacity of your telescopic loader."
Consider Attachment Compatibility
Most compact wheel loaders are available with a skid-steer attachment plate that allows a wide range of skid-steer attachments to be utilized.
"The universal hydraulic attachment plate enables the operator to quickly switch attachments without leaving the operator's station," says Dotto. "It is also compatible with most attachments for added versatility, making them excellent machines for all seasons — from snow removal to construction and landscape."
Compact wheel loaders can typically handle hydraulic attachments that require flows of 15 to 33 gpm. Some compact wheel loaders feature auxiliary circuit control with a high-flow function, which further increases the attachments suitable for use with these machines.
When it comes to unique configurations, Kubota even offers the ability to install a backhoe on its R430 loader that provides up to 9 ft. of digging depth for trenching projects. The R430 is a popular choice when working in extremely compact areas.
Venieri also offers compact loaders with backhoe-loader attachments, including the VF8.23, VF10.23D, VF10.33C and VF1.33B. "Venieri offers solutions through the multi-functionality of their backhoe-loader," says Erixon. "The approach is different. While the wheel loaders are wheel loader/tool carriers, the backhoe-loader platform can be configured as a backhoe-loader or as an alternative product."
The goal is to have one machine that can serve multiple purposes. "For example, a contractor buys a UMAK (Universal Machine) duly equipped for snow removal duties," Erixon poses. "After the season, the same customer can perform road maintenance with an asphalt planer and brushes.
"Our machines can support endless attachments," she adds. "Of course, it has to be done with a proper matching of attachment sizes."
There are too many features and options to cover every compact wheel loader available. That is why you need to carefully research your options to find the perfect fit.