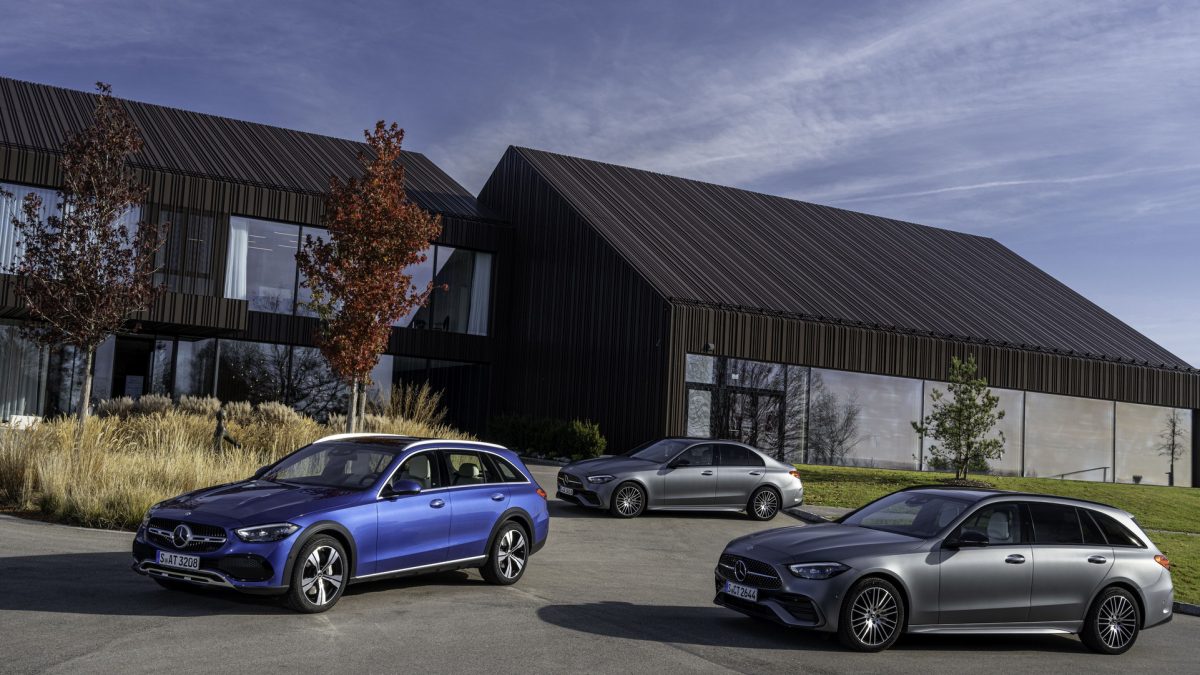 2022 Mercedes-Benz C-Class All-Terrain From Every Angle And Next To The C-Class Wagon Too
Mercedes today shared a huge collection of photos showing how different the new C-Class All-Terrain is compared to the car it's based on, the C-Class Estate. We'll remind you that, unfortunately, the C-Class All-Terrain will not be available in the North American market.
The C-Class All-Terrain joins the likes of the A4 Allroad and other rugged wagons as an alternative to crossovers. Raised by 40mm (1.5 inches) over the standard car, the C-Class All-Terrain also features a special radiator grille, off-road-focused bumpers, and simulated underride guards at the front and rear. It also gets plastic cladding over the wheel arches.
In photos, the difference between the C-Class All-Terrain and the C-Class Estate is clear. The cladding, the bumpers, and the lift all combine to make the new model appear more capable and taller. The C-Class Estate's side sills, meanwhile, keep it closer to the ground.
As a result of all the modifications, its exterior dimensions are slightly larger than the C-Class Estate's. At 4755 mm (187.2-inches) long and 1841 mm (72.4-inches) wide, it's four millimeters (0.1-inches) longer and 21 mm (0.8-inches) wider than the standard car.
The C-Class All-Terrain features larger-diameter wheels (17- to 19-inches are available), a front four-link suspension with larger steering knuckles and a multi-link suspension mounted on a rear axle carrier at the rear, and gets an extra 40 mm (1.5-inches) of ground clearance. And to ensure it remains comfortable on the road, the comfort suspension with passive dampers is standard.
To ensure it can handle driving off the beaten path, Mercedes has added an OFFROAD mode, which is designed for terrain such as dirt roads, gravel, and sand and comes as standard. OFFROAD+ with Downhill Speed Regulation, meanwhile, is designed for heavier and steeper terrain and is an option.
Moreover, the DIGITAL LIGHT system is an optional extra. For the All-Terrain, it features an off-road light so that the driver can detect obstacles sooner. It switches on when off-road driving mode is activated, and is active up to 50 km/h (31 mph), at which point it switches off automatically.
Naturally, the C-Class All-Terrain is also offered with standard 4MATIC all-wheel-drive. It can send up to 45 percent of its torque to the front wheels, and is mated to a nine-speed automatic transmission.
In its home market, the rugged wagon is offered with a choice of gas (C 200) or diesel (C 220 d) four-cylinder engines. The former is good for 201 hp (204 PS/150 kW) and 221 lb-ft (300 Nm) of torque, while the latter is good for 197 hp (200 PS/147 kW) and 324 lb-ft (440 Nm) of torque. Thanks to an advanced starter-generator, both can get a short boost of 20 hp (20 PS/15 kW) when called upon.
In Germany, the new model will hit dealerships this year with prices starting at €53,014.50 (equal to $59,682.93 at current exchange rates) for the gas model and at €55,394.50 ($62,335.15) for the diesel model, including local taxes.