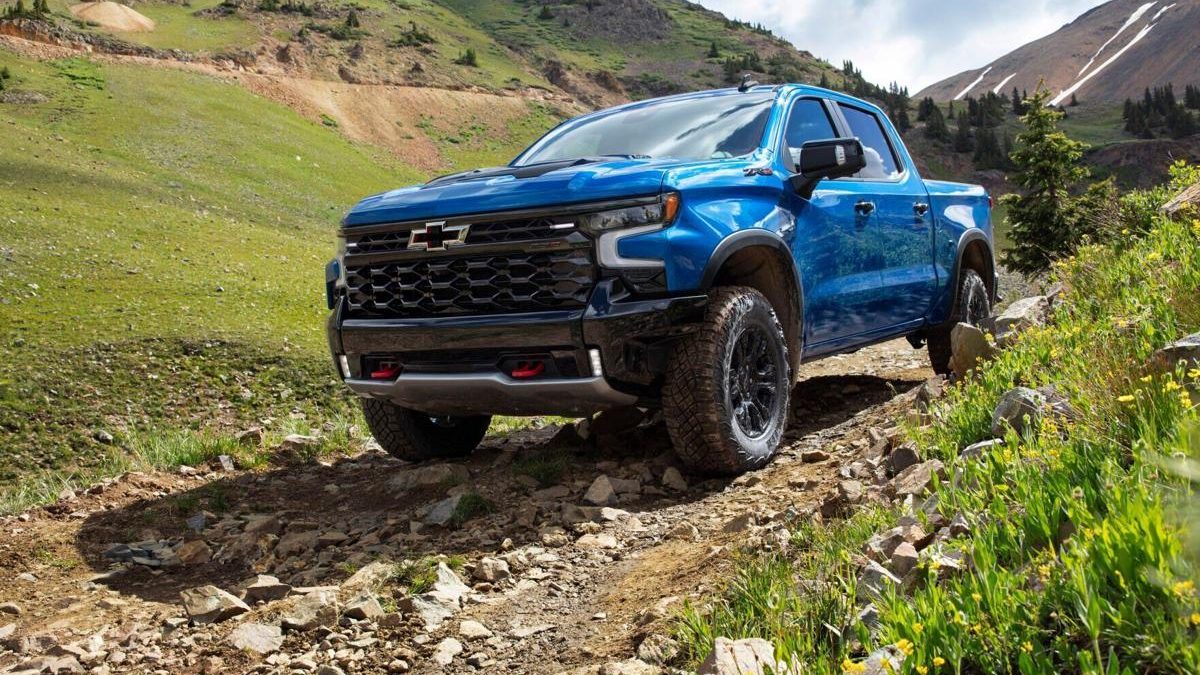 2022 Chevrolet Silverado
If your New Year's resolutions include getting out of cell phone range, the Chevy Silverado would like a word with you.
Both take the bones of a standard Silverado 1500, then beef up the source material with significant performance upgrades, and a bit of eye-candy, too.
Trail Boss, for example, adds a muscular, 420-hp, 6.2L V-8, a 2-inch suspension lift, electronic rear differential locker, knobby Goodyear Wrangler Mud-Terrains hugging 18-inch black aluminum wheels and the Z71 Off-Road Package, with its under-body skid plates, Hill Descent Control and monotube off-road shocks.
ZR2 takes that to the next level. Powered by the same V-8, with its 460 lb.-ft. of torque, ZR2 adds techy spool-valve dampers, increased front- and rear-suspension travel, front (as well as rear) e-lockers, even gnarlier 33-inch Goodyear Wrangler Territory off-road rubber and, thanks to its front bumper design, a more aggressive approach angle.
We drove a 2022 Silverado LT Trail Boss with its four-mode four-wheel drive system, which includes 2hi, 4hi, 4lo and, in a nod to civilization, a perfect-for-rain-and-snow all-wheel drive AUTO setting.
Alas, as much as this roughneck strained at the leash to get out in the wilderness, we domesticated it with around-home chores — a challenge to which it rose effortlessly as we lugged in the truck's bed a load of furniture and area-rug donations to the St. Vincent de Paul Society.
On the road, the big guy rides, drives and handles like the brawny truck it is, but the interior at-speed is civilized. And, needless to say, the cabin of our crew-cab Trail Boss was roomy enough to host a tennis tournament.
During just over 100 miles, more on surface streets than interstate, we realized 14 mpg from the big eight-pack through its standard 10-speed automatic.
The 2022 Silverado 1500 is available in trims of Work Truck, Custom, LT, RST, LT Trail Boss, ZR2, LTZ and High Country. LT and up benefit from an all-new interior design.
That new cabin reveals an infotainment setup with a reconfigurable 12.3-inch gauge display and a 13.4-inch center-stack touch screen. Also, the system includes the always-appreciated knobs for radio volume and tuning.
Since this current-generation Silverado debuted in 2019, we've always thought the truck's exterior appearance was somewhat over-styled. The mild 2022 facelift hasn't changed that view, what with its pinched face below the headlights, its sharp-enough-to-cut-steak profile character lines and its exaggeratedly sculpted tailgate flanked by taillights that mimic the facial pinches.
That said, our LT Trail Boss and the new ZR2, with their knobby tires and suspension lifts, seem to wear Silverado's over-the-top haberdashery better than some of the others.
Part of that styling in our truck's case was the handy — and optional — $445 Multiflex tailgate, whose top section can be opened independently of the lower portion of the tailgate. Its flexibility — everything from lowering the top edge of the tailgate to morphing the gate into a tailgating seating area — makes carrying long items (like rolled carpets) easier while offering the same function as a standard tailgate if the entire gate is dropped as a unit. Add an assist stick in the cargo box's left wall, hand-grabs in the top of the bed walls and incorporated assist-steps in the rear bumper, and Silverado makes bed access easy.
Since its arrival in 2019, Chevy has been quietly improving this current Silverado. In 2022, the truck has received its most significant upgrades yet.